QUICKBEAM'S OUT ON A LIMB:
Where the Stars are Strange: Part I
'Me go and see Elves and all! Hooray!' he shouted, and then burst into tears.
* * *
My little cat died just before I left for New Zealand.
All my bags were packed. Tickets checked and double-checked. The anticipation was heady – I was excited like you wouldn't believe, expecting the adventure of a lifetime. All my thought was on visiting the amazing sets in Wellington, meeting the actors, seeing the creature effects and weapons shop. I had never been so eager for anything.
Then on 27 November 2000, little Icarus died of kidney failure after many months of pain. He stopped breathing in my arms. I held him and cried as his eyes went glassy and cold. We raced down to the veterinarian, driving through the stoplights, but there was no hope.


Icarus

This is hard to convey without sounding overly sentimental. Forgive me.

He was an orange tabby with golden eyes. Muscular and talkative, he was a "big ol' Tom Cat" who walked around like he owned the place. I named him after the Greek myth of Icarus because he was often uncontrollable and would never listen to discipline. He was my constant companion for 13 years. With no lover or spouse in my bed, I had that silly cat as a pillow partner. I always slept with Icarus curled up in the crook of my arm, the sound of his purring a lullaby for the weary.

He was more than just a cat, to me anyway, and I loved him with a full heart. I fell apart when the vet took him away, wrapped in a towel.... I wept for seemingly hours, unaware of time. Had my own brother passed away it would have felt the same. A matter of indulgence, maybe.

The following morning was not easy. How could I feel good about a long trip, even if I was going to Middle-earth? What, leave my home to visit a strange country? Now? Not knowing any friends there? I can't even stand upright without crying and blubbering. Everything felt wrong. Leaving for New Zealand was the last thing I needed. All enthusiasm vanished: I simply did not want to go.

Indeed, I was THISCLOSE to canceling my tickets.

I wrote an email to Sir Ian McKellen and told him how I felt. His response was very kind, with a warmth I did not expect. He wrote:
So sorry about your cat: your trip couldn't be more timely. Looking forward to seeing u. I'll take u to Minas Tirith and u can meet Shadowfax.
xoxo Ian
His words encouraged me, and my perspective changed a bit. I carefully thought about it and realized how unique this was. This trip was a singularity. It was, trite though it sounds, a once-in-a-lifetime chance. To see the secretive sets. To meet the powerful talent behind (and in front of) the camera. To give all you fans a closer view of the magic. To heal.
Maybe this was exactly what I needed. To take my mind off things and heal. What else was I going to do – sit around Los Angeles and mope, missing out on everything? Insanity. I would work through it, somehow, and I could stand some fresh air.
Then I suddenly recalled that awful Glenn Yarbrough singing in the old Rankin/Bass version of The Hobbit. "The greatest adventure is there if you're bold, let go of the moment that life makes you hold."
Ahhh, I'm such a child sometimes.
* * *
I left L.A. behind on Wednesday night, 29 November 2000. My very first trip outside the borders of the USA promised to be eventful (that's right, my passport got its first stamp) but nothing, I mean nothing, could have prepared me for the tortures of international flight. Why didn't somebody tell me? Being cramped in coach with not enough room to even wiggle my fingers was difficult. Trying to sleep through eighteen hours of bumpy flight – some 30,000 feet aloft – while below me the vast expanse of the Pacific churned.... well, that was impossible.
Deep ocean. Vast sea.
With my CD player in my ears, I dozed off and on. As the hours stretched on, even half-dreams of Peter Murphy's spiritual songs held no comfort. I tried the Carpenter Biography of J.R.R. Tolkien but failed to get through two whole pages. I closed my eyes. I thought of Icarus and wondered if I would be joining him in Heaven soon. Then, it seemed, funny things played out before my vision. I looked out my window, down the huge length of the metal jet-wing, and thought I saw something. It was very strange. There was my little orange cat, sitting on the wing, enjoying the wind flowing through his fur.
I know, I know. But there he was, all the same. He stood, walked softly towards me and jumped into the cabin, passing right through the wall. He curled up in my lap and slept. A waking dream....? Maybe. I felt comforted and calmed. I shortly fell back to slumber.
* * *
Morning arrived on the other side of Planet Earth. I missed a day completely, so I opened my date book and crossed a big scratch through 30 November. A day that would never exist for me in any universe. I couldn't get my mind around that, even though I've read all of Stephen Hawking's books.
But indeed there was Auckland, bright sunshine, and much bustling about the cabin. People opened the blinds, flooding the interior with light. Some tingle of imagination started to leap-frog in my brain. I felt my first anticipation of the delights yet to come. Wizards and orcs, hobbits and oliphants waited for me! All would be well.
Just look at that gorgeous island.... No smog! The high air was startlingly clear. Surf pounded the jagged shoreline, leading up to green swathed cliffs and alongside them endless fingers of beach. Little white dots on the green signified sheep. I chatted up the blokes next to me, pointing out the window and joking, "Look on the cliff! It's Lucy Lawless! How did she get there?" Only one of them got it.
The sound of my own voice slapped me. You sound like a rude American, I thought. Yours is not the common voice but the stand-out! Everyone around will have a richly colored Kiwi accent but as soon as you open your mouth, Quickbeam – they'll know you're a YANK!
I never felt so self-conscious in my life. Quite an odd feeling for a person with 25 years of stage experience. I decided to keep my mouth shut from then on (also an odd feeling) and we landed without further attempts at humor.
O, splendid New Zealand! I could not believe I was really here.
Have you ever felt that certain "new" feeling that comes over you when you travel? Like when you take a deep breath and think to yourself, "Those are brand new, alien molecules of air, little bits of oxygen that would never have been in my lungs." Everything is novel; and you are sensitive to signs of life all around you. "Look! there goes a species of bird I've never seen. I feel like Magellan!" Hard to explain but incredibly satisfying.
Now connected to Wellington, I enjoyed a second breakfast and by chance found a picture of Sir Ian in the morning Herald. In the image, he gestured his hand in welcome. Nice touch.
An hour later I touched down at a place just off the edge of the World, at the bottom tip of the North Island, the Garden of Eden for all Tolkien fans: Miramar, Wellington. David Sylvian was crooning softly about "Wanderlust." What better CD to listen to? I got my first glimpse of the Stone Street Studios, a place where I would learn all of Middle-earth's secrets in a matter of days. To the untrained eye it was just a clump of white buildings adjacent to the airport but to me it was a menagerie of magic.
My spirits rose. Down there one might find things, myriad brilliant things – like a giant foam rubber Shelob, and thousands of shiny helmets, and famous Shakespearean actors foaming at the mouth. I couldn't blink I was so excited. I felt electricity in my veins. Fantastic!
This wonderful wanderlust....
Soon a taxi was shepherding me to the center of Wellington. I really freaked out with the driver going down the wrong side of the road! Was I trapped in some evil high school traffic educational film? How bizarre.
Destination: Downtown Backpackers Youth Hostel. My dear friend Tehanu told me it was decent – but if it turned out to be a fleabag I would switch to Plan B. She had musician friends in the area who had a free couch (nice of Tehanu to look out for me).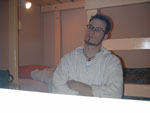 Not nearly as comfortable as Bag-End
The hostel was iffy – my room stale and dark. However, they had a comfortable common area and YES! an internet cafe. Granted, it wasn't the four-star Hilton but I'm not so picky. Having to share a small shower with everyone down the hall would be weird though ("Are you looking at my bum? Cheeky bum-lookers!").
I took out my camera and walked around all afternoon, making a fool of myself. Well, basically, I could pass for a Kiwi as long as I didn't SPEAK. I wanted very much to see the Te Papa Museum, the glorious Parliament Buildings, et cetera. So, give me a break! It was a lovely day and I had never traveled abroad. I had to tour just a bit....
| | |
| --- | --- |
| Lambton Harbor and city skyline | Across to Oriental Bay |
Friends had warned me how foul and unpredictable the weather would be. But not this day. Gentle sunshine, a soft breeze from Lambton Harbor. Though it be the First of December, it was early summer here and heaven was all around me. My heart was at ease.
Wellington has a great vibe. Everything about it is inviting and pleasant. My first impression was: "Just like San Francisco!" An impression that really stuck. There were quaint houses in colorful rows, all up and down the hills. There was a cluster of skyscrapers, promontories of commerce, snuggled close to the Harbor's edge. Boats innumerable: towing, docking, and receding out across the water. And there across the Harbor lay the hills of the Lower Hutt. There be the magnificent Helm's Deep set, now converted into Minas Tirith. On my right was Mount Victoria, glorious green, where the four hobbits hid from the sniffing Nazgûl.
"Good Lord, I'm in Middle-earth."
| | |
| --- | --- |
| Quickbeam goes to Parliament | Parliamentary Library -- No cameras allowed! |
I toured all day (wow, Parliament Building!) and went out clubbing all night (wow, Courtenay Place!). My friend would pick me up in the morning, as a certain White Rider was expecting me at Stone Street Studios. How I got any sleep that night I'll never know.
* * *
Shockingly, the next morning I overslept and was 45 minutes late! Had my ride left without me?
Ass! Fool!
It turned out alright, of course. My ride appeared out of the mist, while I stood there fuming, and said, "I figured you'd be late. We drove around and decided to come back one last time." Repeat after me: "Ass! Fool!" I swore then and there to never travel without an alarm clock again.
In minutes, we were coursing through the Mt. Vic tunnel, Miramar just ahead. Whatever was about to happen – and I could not have known – would change my life.
There I was at the unassuming Stone Street facility, nestled in a middle-class suburban neighborhood. Rather ordinary looking, the buildings once housed a paint manufacturing plant, or so I'm told. Outside the gate, a kindly security guard sat listening to a small radio. Not at all like movie studios in L.A.: there was no imposing security gate, no barricade, and no attitude. He asked us all to sign in and easy as that: we were inside.
Part of a giant dead Oliphant lay on the asphalt just ahead. It was not the whole prop, just a section of it. The thing was so huge it had to be taken apart into manageable sizes for transport. The truck-sized piece I saw had a hide of dark brown matted fur and, assembled across the top like the masts of a huge ship, wooden poles and platforms. From there, on the back of the beast, the evil Mordor Orcs and Haradrim would ride. If this was only a piece of it, how colossal the entire thing must be! In The Return of the King it will appear as an Oliphant-corpse left on the burnt Pelennor Fields. I would be told later on, I don't recall by whom, that this giant beast, fully assembled, would break some kind of record for the largest stationary film prop ever made. Awesome!
Now we were lost in a labyrinth of stars' trailers. Many had signs on each door:
FRODO
THÉODEN
GANDALF
We went straight towards this last one and stopped at the door. My friend said, "Maybe we should call over at the Production Office. He might be working on-set."
I replied, "Why don't we just say 'friend' and knock real loud?"
The door swung wide. There stood a tall, imposing wizard dressed in shimmering white robes. The fabric was embroidered in magnificent silk patterns. His beard was less than two hands in length, tapered to a point, and he wore no hat. I walked up and said to him, "We're here."
At first Sir Ian said nothing. He had a very sweet, gentle smile on his face and a script in his hand. He put the pages down and opened his arms, giving me a hug. "Oh, I am sorry," he said; as warm and generous as my own family.
There, on the other side of the world, as Gandalf the White comforted me, I let my feelings go and cried in his arms.
To be continued....
Much too hasty,
Quickbeam
Talkback
Post your comments on this article.
BE HERE TOMORROW FOR: Lunch with Gandalf, the healing of Théoden, a party with PJ, and singing karaoke with Sauron!
---