QUICKBEAM'S OUT ON A LIMB:
An Open Letter to Jeffrey Wells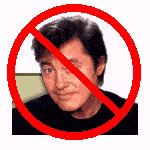 [ Hollywood Confidential Article ]
Jeffrey Wells, I am calling you out right now!
I am amazed at your insolence. And your sweeping judgments. And most of all I am shocked at your attempt to pass off your recent "Hollywood Confidential" column as entertainment journalism… or whatever the hell it's supposed to be. This Gamble of the Rings offal that you have foisted upon us is riddled with errors and assumptions as broad as a bus.
Congratulations, Jeffrey. In one fell swoop you've insulted millions of intelligent and thoughtful genre fans around the globe, while at the same time leaving your credibility twisting in the wind.
Your attitude toward the fans is indefensible. Instead of showing some basic understanding of the Tolkien fan community, you give us cheap stereotypes galore! Why are "geeks and pre-teens" the only people who read Lord of the Rings? What is that all about?
In your mind, Jeffrey, it seems there is a great populace of unhappy and socially awkward young people who live their stunted lives vicariously through fantasy games and comic books. All those nerds in a state of perpetual post-pubescence, unable to assert themselves in the real world. Is that what you make of us?
Tell me if you can what constitutes a 'geek.' Is he someone who constantly beats you at chess because he's a little bit smarter than you? Someone who wears all-black clothing and ardently listens to The Cure? Someone who spends his time reading a 1,200-page novel of high romance and tragic myth because he sees the beauty in one man's imagination? In the face of your cynical comments, I have to ask: How transparent must these stereotypes be to suit your needs?
Ah, but it's so easy to be cynical.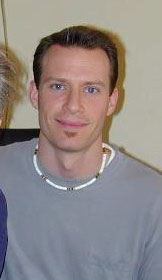 Let's do a fun little test. Take a look at my photo and tell me if I look like a typical 'geek-type' to you. What's the hidden clue in my face that signals GEEK? At the risk of sounding immodest, I am active, well-groomed, well-liked, I go to rock n' roll shows on the Sunset Strip, I get invited to parties, and the fact that I'm a huge Tolkien fan diminishes none of it. Wonders never cease!
Could it possibly be, just maybe, there's someone out there who really digs fantasy and science fiction without suffering from bad hygiene and social ostracism?
Come on, Jeffrey, don't be so snotty. Not all people who enjoy the offerings of Professor Tolkien fall under your oh-so-convenient label. The many hundreds of nice folks I have met around the world who adore Lord of the Rings are myriad: professionals and artists, teachers and designers, hippies and accountants, laborers and film directors.
But they all have one thing in common–they know what they like.
The fact is, since 1954 there are four generations of Tolkien enthusiasts who have been handing these books down to their children (in turn passing them down to their own). You could not ask for a more diversified and time-tested audience that crosses all demographics. New Line Cinema knows this well enough.
Your instinctual musings are dead wrong. You obviously have no idea how broad the appeal is for this material. Open your eyes! There is already enthusiasm even surpassing the high watermark set by Star Wars fans. Indeed, the legions of Star Wars fans are already inclusive in the Tolkien fan-club by osmosis (We all know how liberally Lucas borrowed from Tolkien anyway, but that's another story).
It's not my job to be a financial prognosticator. But it's clear that the first installment of Peter Jackson's films will easily make New Line's investment a square deal. The later two films will just be icing on the cake. By the way, the film is "laboriously titled" (as you put it) The Fellowship of the Ring because that was the name Tolkien gave the book in the first place.
At this point I doubt you can call yourself a true cinéaste and still keep a straight face. If you can't even tell the difference between Christopher Lee and Sir Ian McKellen how do you expect us to swallow your cheap appraisal of the whole franchise? Please. Expect a phone call from Elijah Wood's publicist because as I look now you've still misspelled his name.
I dare you… I dare you to link directly to this page from your column. Some small measure of atonement is due–and a good place to start is admitting you were wrong to all the people you pissed off.
Next you can go ahead and admit the ultimate truth: that you've never even read the Lord of the Rings trilogy! You couldn't be bothered, you never took an interest. Go ahead, Jeffrey, you don't have to hide in the dark anymore. We know you are a Tolkien virgin… much as it pains you to be dragged into the harsh light of day.
But don't fret. We 'geeks' will absolve you of your ignorance.
You still have eight months to read the books before the film comes out. You up to the challenge big guy? Or are you afraid of becoming one of us?
Much too hasty,
TALK BACK
Want to share your comments? To participate in the active discussion thread about this article, click here.
---