TRIBUTES
Gene Wolfe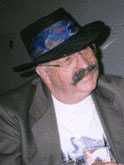 The copy of The Fellowship of the Ring that I received from Fantasy & Science Fiction lies on my desk as I write. It is, I suppose, the first American edition; it was issued in 1956 (the year in which I bought it) by the Houghton Mifflin Company of Boston. It is gold-stamped, and is bound in cloth the colour of slightly faded denim. Its elegant dust jacket vanished long ago, though I still recall it. Its back board holds a much-folded map of Middle-earth, sixteen inches on a side, showing among other places the Shire, the Lost Realm of Arnor, Mirkwood, the Brown Lands, Rohan, and Gondor. On its half-title there is now a quotation from Thoreau that I inscribed in blue ink many years ago. I give it because its presence on that slightly yellowed page should convey to you more of what this book meant to me in those days than anything that I might write in my little essay possibly could.
Our fabled shores none ever reach,
No mariner has found our beach,
Scarcely our mirage is seen,
And Neighbouring waves of floating green,
Yet still the oldest charts contain
Some dotted outline of our main.
You are not likely to believe me when I say that I still remember vividly, almost 50 years later, how strictly I disciplined myself with that book, forcing myself to read no more than a single chapter each evening. The catch, my out, the stratagem by which I escaped the bonds of my own law, was that I could read that chapter as many times as I wished; and that I could also return to the chapter I had read the night before, if I chose. There were evenings on which I reread the entire book up the point -- The Council of Elrond, let us say -- at which I had forced myself to stop.
Naturally I had sent for The Two Towers as soon as I could. Eventually it came, bound and typeset as beautifully as The Fellowship of the Ring, with the same map (I confess that I had hoped for something new) in its back. Just as I inscribed that quotation from Thoreau in Fellowship, I put one from Conrad Aiken on the half-title page of Two Towers:
There was an island in the sea
That out of immortal chaos reared
Towers of topaz, trees of pearl
For maidens adored and warriors feared.

Long ago it sunk in the sea;
And now, a thousand fathoms deep,
Sea worms above it whirl their lamps,
Crabs on the pale mosaic creep.
By the time I received Two Towers, I had learned my lesson -- I ordered The Return of the King at once. That, too, is on my desk. With one other thing, its back holds a delightfully detailed map of Rohan, Gondor, and Mordor. The quotation I inscribed on its half-title is from Robert E. Howard. You have my leave to quarrel with me, but I think it the finest of the three, indeed one of the finest things have ever read.
Into the west, unknown of man,
Ships have sailed since the world began.
Read, if you dare, what Skelos wrote,
With dead hands fumbling his silken coat;
And follow the ships through the wind-blown wrack--
Follow the ships that come not back.
If you remember the end of this last volume, how Frodo rides to the Grey Havens in the long Firth of Lune and boards the white ship, never to be seen again in Middle-earth, you will understand why I chose that particular quotation and why I treasure it (and the book which holds it) even today.
Gene Wolfe
Excerpted from "The Best Introduction to the Mountains".
Read the full essay at: http://home.clara.net/andywrobertson/wolfemountains.html
---