TRIBUTES
David Brin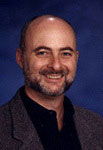 Naturally, I enjoyed the "Lord of the Rings" (LOTR) trilogy as a kid, during its first big boom in the 1960s. I mean, what was there not to like? As William Goldman said about another great fantasy, "The Princess Bride," it has "Fencing. Fighting. Torture. Poison. True Love. Hate. Revenge. Giants. Hunters. Bad Men. Good Men. Beautifulest Ladies. Spiders. Dragons. Eagles. Beasts of all natures and descriptions. Pain. Death. Magic. Chases. Escapes. Miracles."
In 1997, voters in a BBC poll named "The Lord of the Rings" the greatest book of the 20th century. In 1999, Amazon.com customers chose it as the greatest book of the millennium.
Of course there is much more to this work than mere fantasy escapism. J.R.R. Tolkien wrote his epic -- including its prequel, "The Hobbit" -- during the dark middle decades of the 20th century, a time when modernity appeared to have failed in one spectacle of technologically amplified bloodshed after another.
LOTR clearly reflected this era. Only, in contrast to the real world, Tolkien's portrayal of "good" resisting a darkly threatening "evil" offered something sadly lacking in the real struggles against Nazi or Communist tyrannies -- a role for individual champions. His elves and hobbits and über-human warriors performed the same role that Lancelot and Merlin and Odysseus did in older fables, and that superheroes still do in comic books. Through doughty Frodo, noble Aragorn and the ethereal Galadriel, he proclaimed the paramount importance -- above nations and civilizations -- of the indomitable Romantic hero.
All right, I read Tolkien's epic trilogy a bit unconventionally, starting with "The Two Towers" and backfilling as I went along. Likewise, I may be a bit off-kilter in liking, best of all, the unofficial companion volume to LOTR -- perhaps the funniest work penned in English -- the Harvard Lampoon's 1968 parody, titled "Bored of the Rings."
Nonetheless, I deem Tolkien's trilogy to be one of the finest works of literary universe-building ever, with a lovingly textured internal consistency that's excelled only by J.R.R.T.'s penchant for crafting "lost" dialects. Long before there was a Klingon Language Institute, expert aficionados -- amateurs in the classic sense of the word -- were busy translating Shakespeare and the Bible into High Elvish, Dwarvish and other Tolkien-generated tongues.
And yes, LOTR opened the door to a vast popular eruption of heroic fantasy. With exacting devotion to Tolkien's masterly architecture, his followers scrupulously copied the rhythms, ambience and formulas that worked so well.
Indeed, the popularity of this formula is deeply thought-provoking. Millions of people who live in a time of genuine miracles -- in which the great-grandchildren of illiterate peasants may routinely fly through the sky, roam the Internet, view far-off worlds and elect their own leaders -- slip into delighted wonder at the notion of a wizard hitchhiking a ride from an eagle. Many even find themselves yearning for a society of towering lords and loyal, kowtowing vassals.
Wouldn't life seem richer, finer if we still had kings? If the guardians of wisdom kept their wonders locked up in high wizard towers, instead of rushing onto PBS the way our unseemly "scientists" do today? Weren't miracles more exciting when they were doled out by a precious few, instead of being commercialized, bottled and marketed to the masses for $1.95?
Didn't we stop going to the moon because it had become boring?
---
Excerpted from "J. R. R. Tolkien —Enemy of Progress" by David Brin.
Read the full essay at: http://www.salon.com/ent/feature/2002/12/17/tolkien_brin/index.html
---